👤 Exclusive: By Adenike Lucas, DENISAURUS News
For many months now, concerned Nigerians have been asking questions about the appointment status of Ibrahim Mustafa Magu. 
And rightly so that they ask, because on Thursday, 15 December, 2016, the Senate rejected his nomination as substantive chair of the Economic and Financial Crimes Commission, EFCC, based on an intelligence report it received from the Department of State Service, DSS.
Staff of the anti-corruption agency have constantly complained about how their boss was driving the agency down through his corrupt activities.
READ ALSO :  WHY MAGU WAS REJECTED BY SENATE AND WHAT LIES AHEAD FOR HIM
To make matters worse, those questions will intensify following the latest request made to the upper legislative chamber to reconsider its decision to reject Mr Magu.
The request from the executive for lawmakers to reconsider it's stand on the decision it took not to confirm Mr Magu did not provide any answers to the allegation made by the DSS.
Unanswered Questions
Last year, a Top Government official sent Mr Magu's name to the Senate for confirmation while the president was away. The Top Government official, a known supporter of the level 14, Deputy Police Commissioner, sent the nomination without first seeking clearance from the state security agency.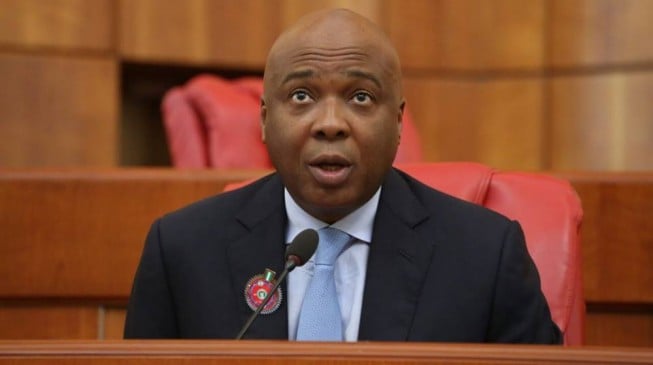 On Sunday, Professor Osinbanjo who is currently in charge, sent a letter to the Senate asking it to reconsider Mr Magu's nomination.
Questions are beginning to form in the minds of staff who believe this occurrence could never be coincidental.
They point to the time in June, last year when the President was away on vacation and his vice, Professor Osinbajo had put pressure on the Senate to confirm Mr Magu.
"Nigerians should observe these three scenarios; first, PMB went to London in June 2016, and conspicuously Mr Magu's name was sent to NASS Senate without DSS Security-Check.
"Secondly, PMB travelled to Morocco for COPP-22, a secret meeting was held behind him to impose Magu of EFCC on NASS Senate.
"Jan 2017, PMB is on vacation to UK and we hear rumour of Mr Magu's re-nomination to Senate. This news flood the country like whirlwind," a staff said to this news site.
"Could this be a ploy to ridicule the DG DSS Lawal M Daura, AGF Abubakar Malami and in particular President Buhari himself. As a way of making it seem, PMB is selective in his fight against corruption, since he could not met the same punishment on Mr Magu of EFCC, despite DSS indicting report on him.
"Certainly, we have been calling on PMB and NASS never to appoint or confirm Mr Magu because he is corrupt."
Despite the DSS and AGF Reports on Mr Magu of EFCC, a Top Government Official and the Chairman of the Presidential Advisory Committee Against Corruption, PACAC  Prof Itse Sagay, say they have carried out an independent investigation which absolved Mr Magu of all faults.
An insider notified DENISAURUS News that the Top Government official and Professor Sagay, both told President Buhari that the allegations against Mr Magu, was not true.
"As a result, when PMB was about leaving for medical vacation in the UK, he told the Top Government Official that "If you think and assumed the DG DSS Lawal M Daura and AGF Abubakar Malami were wrong, then do what you think is right.
"The President only wanted to be sure of those who intended to ridicule his trusted appointees, hence the utterance by PMB.
"But unfortunately, those in question did not realise it was a trap that was set for them."
DENISAURUS News reported in Decembers that the PACAC chair had compromised its duties in overseeing the fight against corruption by wrongly fixing jobs for their relatives at the anti-graft agency
A source with knowledge of how the EFCC works told this newspaper, that the PACAC chair had an unprofessional relationship with Mr Magu.
A staff that was very close to Mr Magu confessed that they didn't know whether the relationship between both agencies was professional.
There are questions being asked about the relationship the chair and secretary of PACAC has with Mr Magu.
"Is it a professional relationship or a relationship of convenience between PACAC and the EFCC?
"Who is the current Chief of Staff of the EFCC? and why "is the EFCC employing children of PACAC members?"
READ ALSO :  EFCC STAFF WARN PRESIDENT BUHARI OF "SLY FOX" PACAC CHAIRMAN, PROF ITSE SAGAY
Indicted DSS Report
Despite his rejection, Mr Magu has continued to parade himself as the boss of the anti-corruption agency.
Hence, a lawyer and human rights activist, Ebun-Olu Adegboruwa, had urged the Court to forthwith, restrain Mr Magu, from doing so.
The lawyer argued in a suit filed on Monday, 16 January, 2017, that having been rejected by the Senate, it had become illegal for Mr Magu to remain at the helms of the EFCC.
READ ALSO : REMOVE MAGU AS ACTING EFCC CHAIRMAN, ADEGBORUWA ASKS COURT
Staff say: "Mr Magu is occupying that seat illegally. From the time he was rejected and subjected to investigation by AGF, he should have been made to step aside."
They say they "are against Mr Magu's confirmation because of his corrupt tendencies. Staff say he is shielding friends like Ibrahim Lamorde and Nuhu Ribadu who have served as chair of the commission.
In their opinion, it is this reason why he has "refused to investigate Mr Lamorde on the 1.9 trillion fraud allegation made by George Uboh. It is also the reason he refused to investigate Mallam Ribadu on the Arms Deal Fund claims made against him."
READ ALSO : MAGU OF EFCC PLOTS WITH SAHARA REPORTERS AGAINST PMB
READ ALSO : PRESIDENT MUHAMMADU BUHARI'S LONELY FIGHT AGAINST CORRUPTION (EXCLUSIVE REPORT)
"Definitely even if Mr Magu's name is being reconsidered for the second time that will amount to breach of the constitution. I will be a great embarrassment to PMB and the National Assembly," a senior staff intoned.
"We understand because of the atrocities Mr Magu and his God fathers have committed in that office, they have a pact to ensure he remains in the office."
Another staff said that the President must come out and speak against this injustice.
According to this staff "Mr Magu's stay in that office would give room to continue bullying, victimising and dismissing core staff as well as collecting kickbacks, frustrating cases as well as giving soft landing to corrupt people.
"President Buhari needs someone who can transform the agency. To do so he has to remove all the bad eggs and bring in sanity and respect to rule of law among others."
On August 8, 2016, Mr Magu ordered the arrest of a popular Kogi blogger who published an article written by Adenike Lucas.
The write up was based on information received from staff who were being bullied by the rejected EFCC boss.
EFCC arrests blogger over anti-Magu story
Magu: Bullying, Deceptive and Corrupt Police Officer
The Editor of DENISAURUS News, Miss Lucas has been very privileged to have gained the trust of so many operatives at the EFCC and as such as done various reports which exposed the level of corruption perpetuated by Mr Magu.
Over the past six to seven months, this blog has published several articles which exposed the corrupt and desperate acts of the "rejected" acting boss of the anti-graft agency.
READ ALSO : WHISTLEBLOWER PROMISES TO EXPOSE MAJOR CORRUPTION IN THE EFCC [EXCLUSIVE]
To validate some of its allegation against Mr Magu, DENISAURUS News leaked an audio conversation of Mr Magu cutting a dodgy deal with Ibanga Akpabio, the younger brother of former Governor Akwa Ibom State.
READ ALSO : AUDIO TAPE REVEALS MAGU OF EFCC'S SECRET DEALS WITH IBANGA AKPABIO
The allegations made against Mr Magu by members of his staff were later confirmed in the intelligence report submitted to the Senate by the Director General of the DSS, Lawal Daura on October 3, 2016.
The DSS report was in response to a request from the Senate which asked for Mr Magu's security check.
This website understands that in an attempt to hoodwink the Nigerian public and in a bid to force President Muhammadu Buhari into clearing Mr Magu – who had failed an integrity test set by the state security, a second report was written by Major General, Babagana Monguno (rtd) and sent to the Senate.
An online media, whose editor in chief has links with Mr Magu, also did a hatchet job on the DSS report with the aim of gathering public sympathy for Mr Magu, but DENISAURUS News has provided a correct version of event.
READ ALSO :  DENISAURUS COUNTERS THE BLATANT LIES PUBLISHED IN THE PREMIUM TIMES WHICH GAVE SUPPORT TO EFCC MAGU AGAINST DSS REPORT
EFCC sources say Mr Magu who was indicted and rejected by NASS due to the damning DSS report has other corrupt cases against him, some have been exposed to this blog by colleagues.
READ ALSO : SENIOR LAWMAKERS REFUSE TO SCREEN EFCC MAGU BECAUSE OF INCRIMINATING DSS REPORT
Following Mr Magu's rejection by the Senate, President Muhammadu Buhari, PMB instructed the Attorney General of Federation and Minister for Justice, Abubakar Malami, SAN, to probe the EFCC "rejected" boss and other top government officials accused of corruption.
READ ALSO : MAGU OF EFCC DEFIES AGF'S 48HRS ORDER ON RESPONSE TO QUERY
According to a whistle blowing employee of the anti-corruption agency, the AGF submitted his report since but up till now nobody knows the import of that report but, it certainly is not right that the speculations are going when the public has not had the chance to read the report.
In addition, EFCC workers have called for Mr Malami, SAN, to release to the public its investigative report against Mr Magu.