👤 Adenike Lucas, Editor, DENISAURUS News
It may not be so obvious, but I led a very successful campaign against injustice suffered by core staff in the hands of police bosses, at the Economic and Financial Crimes Commission, EFCC.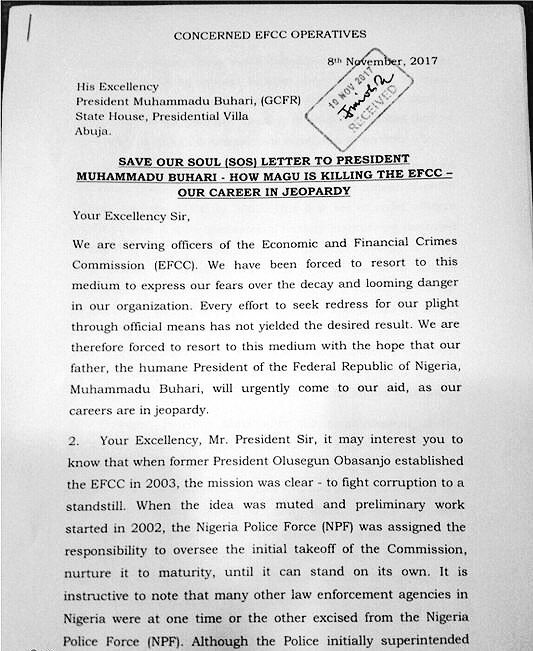 Among those who perpetrated that deep injustice, was the sacked former boss, Ibrahim Mustafa Magu, a man described as a "perennial offender," by the Department of State Services, DSS.
Some of the report I got from my exclusive findings about Mr Magu, was how he was deliberately stalling the promotion of core staff members. There was also the issue of withholding their welfare benefits.
Police colleagues seconded from the Nigerian Police Force, NPF, to the Commission, enjoyed massive privileges like promotion and supplemented wages, but operatives did not really get the same.
Operatives who saw this, believed police officer seconded to the EFCC, would have double allegiance. It was not good for the agency.
Some had then argued that the police be withdrawn from the Commission.
They also made complaints about the way police were favourably treated at their detriment.
Many petitions were written against Mr Magu, who turns 59-years-old in a few weeks time, and I ensured that DENISAURUS News gave itself as a news medium in reporting all the injustice committed against plain clothes operatives.
READ ALSO: MAGU: Suspended EFCC's Acting Chairman Begs For Freedom
Other blog sites like Sahara Reporters and online websites like Premium Times, and The Cable gave support to Mr Magu.
The publisher of Sahara Reporters, Omoyele Sowore boasted about his links with senior officials at Mr Magu's reign.
The arrested media properitor, who has been accused of forging another activist's details to apply for a grant in her name, wanted to blackmail his ex-friend Lekan Fatodu, by requesting he paid him money to help him clear a case with the EFCC.
Of course, Mr Fatodu never gave the money as he believed if he really had a case with the EFCC he would like to clear his name.
READ ALSO: ANTI-GRAFT: Sowore Promised To Settle Magu's EFCC With Large Sums Of Money In Order To Scuttle Fraud Investigation
It is now known that Mr Sowore used his medium to protect Mr Magu, because he was benefitting from him. He often planted stories and help Mr Magu in convicting suspect in the media, although they did not get those judgements in the courts.
Thankfully, Mr Magu is now out. There is a new sheriff in the Commission, Abdulrasheed Bawa, a core staff – and I think this needs to be celebrated. It is the first time in the 18 years history of the anti-graft agency that a core operative would be heading the place.
From the pioneer, Nuhu Ribadu, to his successor Farida Waziri and then Ibrahim Lamorde and Mr Magu, they were all police officers. Albeit, Mrs Waziri, the only female to have chaired the anti-graft was retired, when she assumed her position at the agency.
It almost felt that it was only Police Officers that could head the EFCC, although this was not true. The EFCC Act 2004 clearly states in Section 2(1) that "the Commission shall consist of the following members –
(i) be the chief executive and accounting officer of the Commission;
(ii) be a serving or retired member of any government security or law enforcement agency not below the rank of Assistant-Commissioner of Police or equivalent
(iii) possess not less than 15 years cognate experience."
From this statement, it is clear that not only a policeman could head the EFCC.
The act says that someone with a rank equivalent to an ACP could be made chair. In the commission, there was a level 17 operative, who is more senior to Mr Magu. The man, who was heading the EFCC Academy was unceremoniously suspended by Mr Magu upon his assumption as acting chairman. Thankfully, the court has now decided in his favour and he is back at the Commission.
For the 18 years of its establishment, the police ran the EFCC. Except for Mama Waziri, who perhaps maybe because she was retired, the other police officers treated core staff with disdain.
READ ALSO: UPDATE: Magu commences total illegal war with EFCC core staff
It goes without saying that staff are the heart of any organisation, and when you have disgruntled employees, it would affect operations.
Can you see where I am going, with the way staff members were being treated explains why many confidentially said that they had lost interest in fighting corruption.
They had noted in several interviews at the time that they were so demoralised, and to top it off, they knew that their boss at the time, Mr Magu was extremely corrupt, and he was not declaring assets. They also gave an exclusive story to DENISAURUS News, about how Mr Magu was using a cleric as a front.
The allegation of undeclared assets, and the use of fronts include the pastor and bureau dé change, all led to a call from the Attorney General and Minister of Justice to President Muhammadu Buhari, to investigate and sack Mr Magu. This request was enforced in the month of July 2020, when Mr Magu was disgracefully arrest in front of his subordinates.
READ ALSO: EXCLUSIVE: How EFCC's Magu Was Accosted And Blocked By Security Operatives But Resisted Own Arrest
Following an investigation led by former President of the Court of Appeal, Justice Ayo Salami, Mr Magu was sacked and replaced with Mr Bawa.
Mr Bawa, being a core staff, the first non-police (cadet) to head the EFCC, has made history. With this history, there are lots of interested watchers, waiting to see if he will succeed in the fight against corruption.
There is no doubt that Mr Bawa's fellow operatives want him to succeed, because they know if he does not, it will reflect on them badly too. Those who have mischievously claimed that only the police can head the agency will stick their tongues out, saying we told you so.
However, for this to be a success, I would advice Mr Bawa to revisit many cases of injustice perpetrated against his colleagues. He should reinstate many of the welfare benefit introduced by Mama Waziri, because a staff that is well looked after has no reason to take bribe or look for desperate means to care for themselves.
Adenike Lucas is the Editor and Publisher of DENISAURUS News.
If you would like to get in touch with me direct I would love to hear from you – email denisaurusnews@outlook.com