👤 EXCLUSIVE: Adenike Lucas and Danjuma Aliyu, DENISAURUS News
President Muhammadu Buhari held secret talks with Ali Modu Sheriff, to ensure an easy path is created for Ibrahim Mustafa Magu to emerge as Governor of Borno State, DENISAURUS News can reveal. 
Senator Sheriff, recently joined the ruling All Progressives Congress, APC after losing out on becoming the chairman of the Peoples Democratic Party, PDP. He has settled his quarrel with Governor Kashim Shettima.
President Buhari, 75, who promised to kill corruption when campaigning in 2015, realises that the former Senator for Borno Central remains an influential person in the North-eastern state.
The 75-year-old President, who also meet with Tukur Yusuf Buratai, the Chief of Army Staff, who is also from Borno State, asked Senator Sheriff to work on behalf of Mr Magu.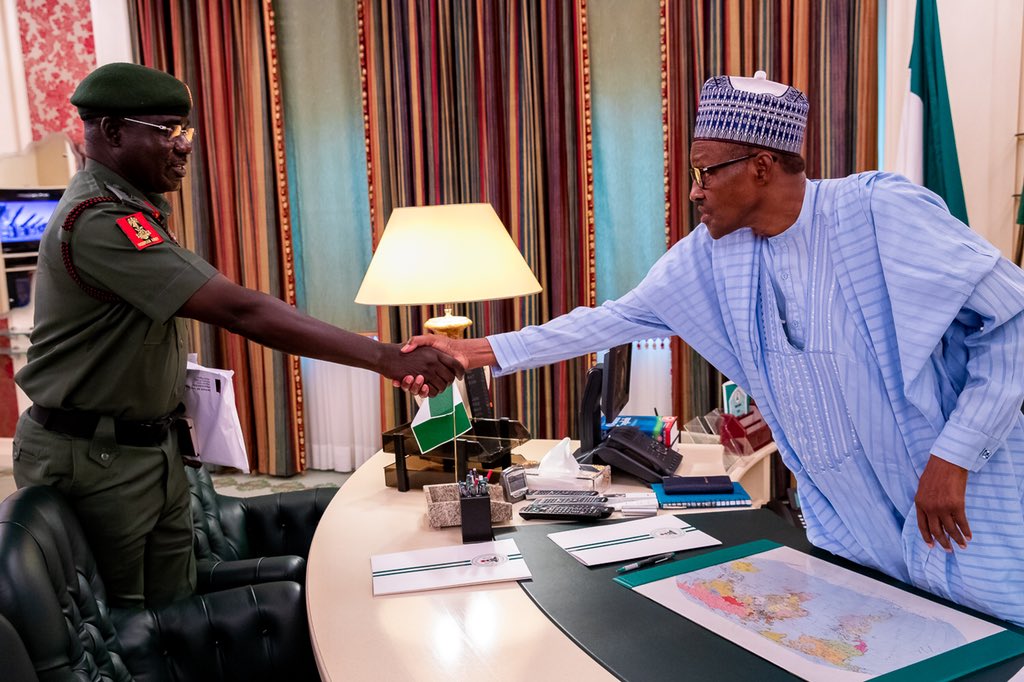 Nigeria's elderly Commander-in-Chief recently declared plans to seek a second term in office. He wants to secure a Governorship position for Mr Magu in Borno, so that once the anti-graft boss leaves his current position as acting chairman of the Economic and Financial Crimes Commission, EFCC, he would have immunity.
EFCC sources say that Mr Magu, an indigene of Borno state, who was recently spotted wearing a lapel of the re-election bid of President Buhari, wants protection from arrest following a series of expose that would lead to his conviction.
READ ALSO : DG DSS Stands By Intelligence Report Indicting Magu, Source Says
Mr Magu, a "corrupt" officer indicted by the Department of State Security Services, DSS, is worried that he would be picked up the day he leaves office.
The 53-year-old, described as a perennial offender had hoped to become the fourth substantive chairman of the EFCC.
However, the indicting report written by the Director General of the Secret Police and a poor performance at screening gave the Senate a reason to reject his nomination.
The fight against corruption has been a disaster as no one Politically Exposed Persons, PEP, has been convicted and many influential figures around the President have been fingered for corruption.
Mr Magu remains in office thanks to the support he gets from the Vice President, Yemi Osinbajo who this paper learned wants to attack opposition members with information derived from the Commission.
The EFCC acting boss did not respond to requests asking for comments on the matter.
READ ALSO : EFCC Is Bleeding, Thanks To Magu (LONG READ)
DENISAURUS News has published many exposes from information gained from trusted EFCC staff members.
It includes the exclusive report on how Nigeria was suspended from accessing a world financial server because of Mr Magu's corrupt ways.
READ ALSO : Nigeria "Completely Shut Down" From Accessing Financial Intelligence From Around The World Due To Sabotage By Magu Of EFCC (WORLD EXCLUSIVE)
On March 25, 2018, EFCC sources exclusively revealed to this paper a promotion given to Mr Magu.
READ ALSO :  REVEALED : Corrupt EFCC Boss, Ibrahim Magu Suspiciously Promoted To Commissioner
Insiders say with the rise in rank to Commissioner, Mr Magu should be have proceeded on a mandatory Senior Executive Course at the National Institue of Policy and Strategic Studies, NIPSS in Kuru, Jos.
READ ALSO :  REVEALED : DENISAURUS Exposé On EFCC Magu's Promotion Confirmed By Police Service Commission
But, they say their boss has been engaged in several corrupt acts and fears being picked up, hence his decision to almost reject the promotion after the exclusive report by this paper.