By Danjuma Aliyu
The Nnamdi Azikiwe International Airport has reopened after closing for six week to repair the runway. 
To mark the opening,  an Ethiopian Airline Airbus A350 landed at the Abuja airport at exactly 12:07 am, this morning.
The Aviation authority which conducted the maintenance has received certification from the Nigerian Civil Aviation Authority.  Operations will formally begin tomorrow (Wednesday 19 April).
This means travelers will no longer need to travel to Kaduna Airport.
President Muhammadu Buhari has commended the effort of the Ministries and agencies involved in the work.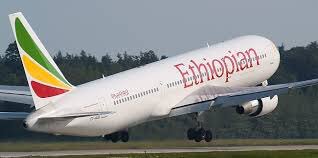 The Minister  of Aviation, Hadi Sirika, was aboard the test flight which departed from Kaduna International Airport.
Taking to twitter, Mr Sirika who fulfilled a promise to have the airport opened by April 19 confirmed that the "Runway friction test" was a success.
"The final activity, concluded. Just landed on the runway, everything is perfect," he wrote.