Exclusive: By Danjuma Aliyu
Nigerians on Twitter have accused a senior lawyer of engaging in double speak.
Following the kidnap of school girls in Borno State, Festus Keyamo, SAN, called for the sack of President, Goodluck Jonathan.
During the election campaign in 2015, Mr Keyamo said: "our women in particular MUST show their outrage and anger for the missing Chibok girls by giving another C-in C the chance to look for them."

But, a similar scenario in 2018, and the lawyer has blamed those "struggling" to forcefully seize power from the current government.
Dr Jonathan, was defeated by President Muhammadu Buahri, becoming the first incumbent Nigerian Commander-in-Chief to be removed by the votes.
President Buhari promises of change includes defeating Boko Haram and ensuring the release of the chibok girls – who were captured by the terrorist sect in April 2014.
Mr Keyamo, who was made a Senior Advocate of Nigeria in 2017, however, took a different tune when it was discovered that 115 girls were taken by the same insurgent group in Dapchi, Yobe this month.
He said: "The Dapchi incident is a national calamity that should unite us all in d quest for a solution. But some people treat it has a political point gained in the struggle for power."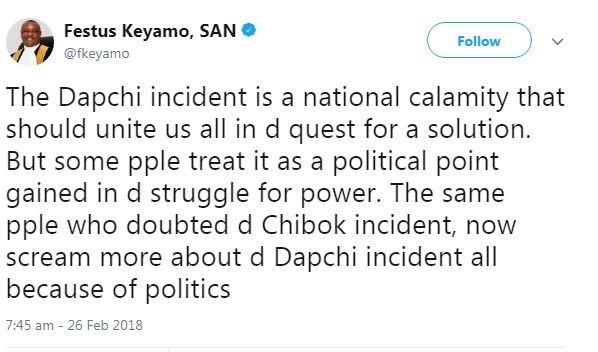 @segalink , a popular social media influencer has questioned the rationale behind Mr Keyamo's decision to blame others now.
In a tweet, SEGA L'éveilleur said: "The GEJ administration messed up with the ChibokSaga. They downplayed, denied and later gave excuses. The very same thing the GMB admin did when presented with the same situation in #Dapchi. Nothing different. How then will a qualified SAN see this differently? #PersonalInterest
"How far will political neophytes go to compensates for SANship?  Stop changing the rules. Your hypocrisy sickens us.
READ MORE: AGF QUERIES EFCC'S MAGU OVER "BLACKMAILING CHARGES" ON CCT CHAIR DANLADI
Another said: "It's beginning to resemble the Napoleon situation in George Orwell's 'Animal Farm' the rules keep changing everyday and if you don't have a retentive memory everything sounds reasonable."
"To make matters worse, Buhari sent security operatives to intimidate the parents from talking, and tend to arrest them. What a big shame "- @LearnNigeria36
Mr Keyamo was recently appointed to serve on the board of the Nigeria Deposit Insurance Corporation.
One person said the appointment was the reason for the change in stance. "As soon as you jump into the ship with Buhari you lose all sense of reasoning. Keyamo is now a complete mumu San who cannot as a lawyer look into his archives as a respected lawyer before tweeting rubbish. Although as long as you're with Buhari, he'll infect you with stupidity," @SegunAdeoye_ wrote.
@Chubalus16  also revealed that he did not expect anything better from the advocate.
"What do expect from a man who failed SAN exams for more than 3 three times until Buhari and APC awarded him SAN? He's a disgraceful hypocrite but unfortunately some Nigerians still believe in their lies and propaganda."