By Abdul Tukur
A letter has surfaced from the Head of the Civil Service of the Federation, asking for the reinstatement of Abdulrasheed Maina.
The letter (Ref No 4029.82/Vol.III/179)  was in favour of the  the former chairman of the Presidential Task Force on Pension Reforms who was sacked by President Muhammadu Buhari last night.
READ ALSO  – https://denisaurus.com/2017/10/23/president-buhari-orders-immediate-sack-of-abdulrasheed-maina-former-chairman-of-the-presidential-task-force-on-pension-reforms/
In reply to that letter dated 18th Septemeber 2017, Salihu Bala, Deputy Director and Permanent Secretary of the Ministry of Interior,  sent a reply on the 16th of October 2017 to say Mr Maina had "resumed duty" at the agency on Thursday 28th September 2017.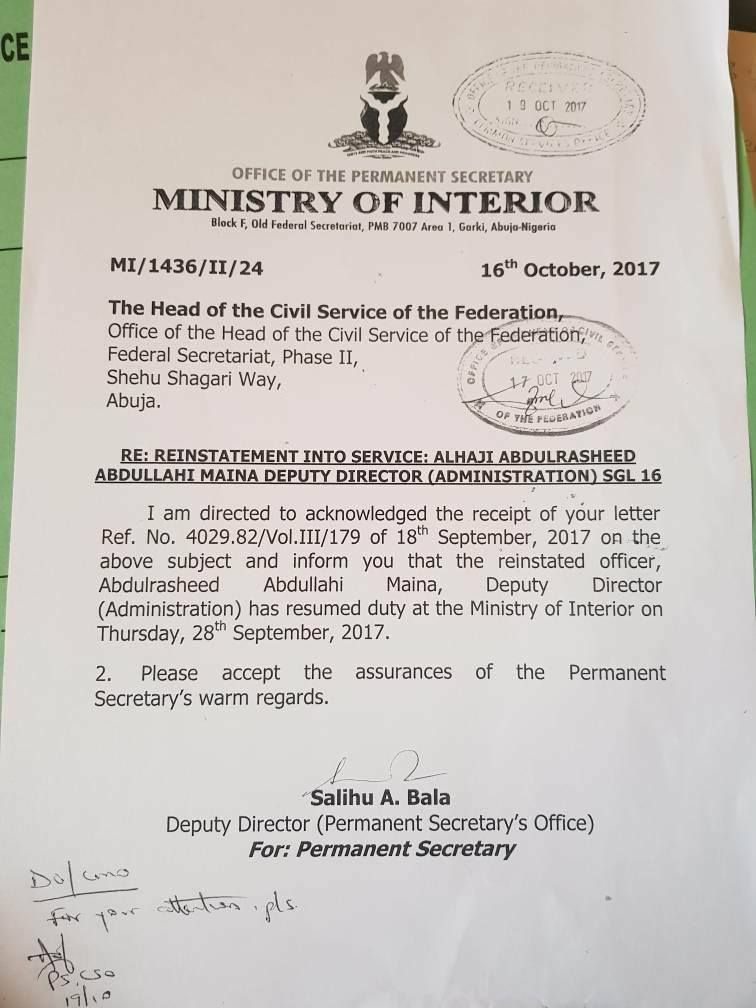 Mr Maina was appointed by former President Goodluck Jonathan as Chairman of the Pension task force in 2010. However,  in 2012, he was accused of embezzling N 100 billion pension funds.
The former Head of the Civil Service of the Federation, Stephen Oransaye was the first to raise an alert on the allegation made against Mr Maina.
However, instead of taking this allegations seriously, a source at the EFCC told DENISAURUS News that the acting chairman of the anti-graft agency refused to act and instead, decided to "blacklist" the whistle blower.
Mr Maina escapped to Dubai after Mr Oransaye was charged. An FCT High Court, Maitama, discharged Mr Oransaye, saying that there was a no- case submission against him.
In her ruling, Justice Olasumbo Goodluck, held that the prosecution failed to establish a prima facie case against Mr Oransaye, who was Chairman, Presidential Committee on Financial Action Task Force.
"There was contradictory evidence by the prosecution witnesses on whether the defendant was still the head of service as at the time he chaired the committee.
"The court seems to discredit the evidence, suffice it to say that there is no evidence linking the accused with the statutory element and ingredients of the offence with which he is charged.
"The court of trial must as a matter of law discharge him because it has no business scanting for evidence that is nowhere to be found.
"I have looked through the case and I am unable to see any justifications for this case.
"The defendant is hereby discharged," she stated early this year.
The staff said that the EFCC boss claimed to have placed Mr Maina was on a wanted list. However, he did not inform the necessary sister agencies like the state security service of this, which meant Mr Maina was able to sneak back into the country.
Today, the Senate set up a committee to investigate the issue of Mr Maina's recall.