By Danjuma Aliyu and Adenike Lucas
President Muhammadu Buhari has presented the 2018 budget to a joint session of the National Assembly.
Nigeria's head of state delivered the budget today at 2pm.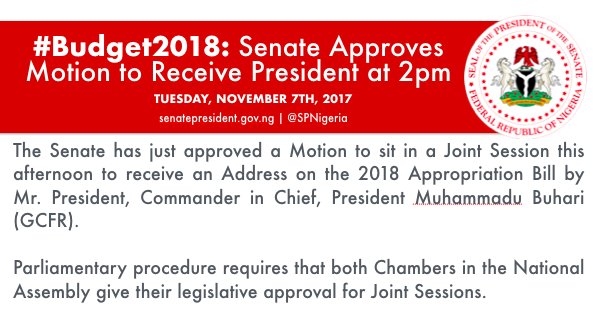 Among the list of announcement made by the President, was a reminder to Nigerians about the whistle blower act. The policy which was introduced by the President Buhari administration encourages ordinary Nigerians to grass on suspected looters.
In September, it was discovered that the "Joint Admissions and Matriculation Board, JAMB announced that they were ready to remit 7.8 billion Naira back to the Government."
President Buhari who explained that the 2018 financial proposals will consolidate on the achievements of previous budgets, said: "The shocking discovery was that in the last decades, JAMB only remitted an aggregate of 51 million Naira."
"This clearly illustrates the abuses that occur in State Owned Entities as well as their potential for increased Independent Revenues, if only people would do the right thing. We all need to play our role to ensure the right thing is done.
"I would also like to remind Nigerians that the Whistle Blower lines are still open."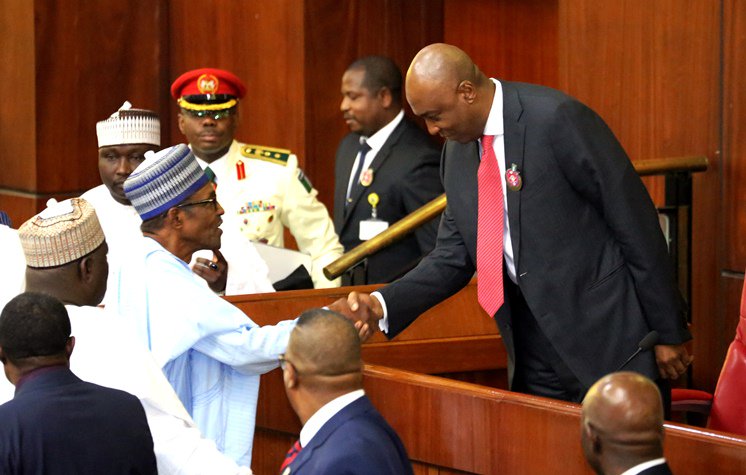 In his budget presentation to a joint session of the National Assembly today, President Muhammadu Buhari castigated those recruiting without all necessary approvals.
"Agencies are not to conduct recruitment without all necessary approvals. President Buhari warned that "any violations will be sanctioned."
The President noted that "2017, so far, has been a year of uncertainty on many fronts across the world." But, he said "By all accounts, 2018 is expected to be a year of better outcomes."
Presdient Buhari also said that "during 2017, the country had a number of disease outbreaks such as Meningitis, Yellow Fever, Monkey Pox and Lassa Fever.
"I would like to commend the Federal and State Ministries of Health for their selfless service and timely responses to contain these outbreaks.
"I would also like to thank the World Health Organisation, the Global Fund and UNICEF, for their continued support during these trying times.
"This collaboration was a key factor in the low mortality rates experienced. To further improve our response to such outbreaks, we are working to upgrade our Integrated Disease Surveillance and Response System. This will further enhance the efficiency of our diagnostic and clinical management processes."
He called for the House to expedite the passage of "the Bill for the Nigeria Centre for Disease Control to enable us consolidate on the successes recorded to date."
The Senate President, Bukola Saraki welcomed the fact that the budget had been prepared before the December deadline.
"It was a pleasure to welcome @NGRPresident @MBuhari to a Joint Session of @NASSNigeria to receive #Budget2018, in accordance with Section 81 of the 1999 Constitution of the Federal Republic of Nigeria as amended," @bukolasaraki tweeted.