By Abdul Tukur
The Chief Executive of the Football Association has apologised to Eniola Aluko for "unacceptable" and racially prejudiced jokes made at her by Mark Sampson.
Ms Aluko, 30, an English player born in Nigeria had accused Mr Sampson of telling her not to allow her family to bring Ebola when they come and watch a match at Wembley.
Likewise, Drew Spence, a mixed race footballer said the 35-year-old former England Manager asked her how many times she had been arrested.
A new investigation into the conduct found that Mr Sampson's remarks were "discriminatory on the grounds of race."
At a parliamentary inquiry today, Martin Glenn said: "On behalf of The Football Association I would like to sincerely apologise to Eniola Aluko and Drew Spence.
"Based on new evidence submitted to independent barrister Katharine Newton, she has now found that they were both subject to discriminatory remarks made by an FA employee. This is not acceptable.
"In her final report Katharine Newton concluded that on two separate occasions Mark Sampson made ill-judged attempts at humour, which as a matter of law were discriminatory on grounds of race within the meaning of the Equality Act 2010."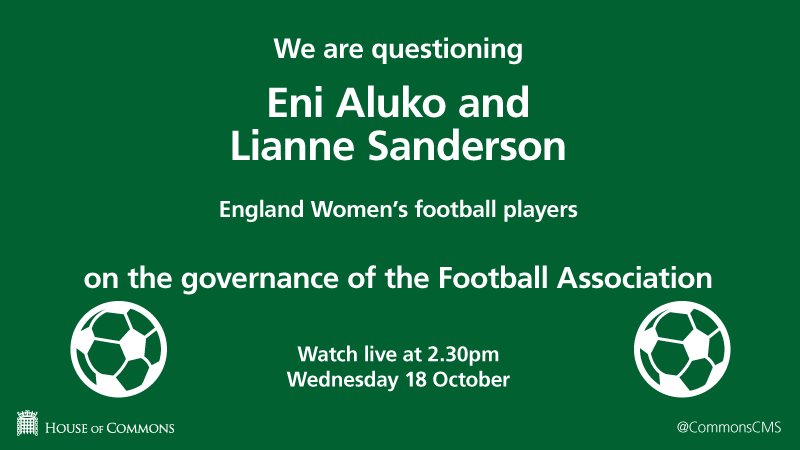 "Our ambition has always been to find the truth and take swift and appropriate action if needed. It was our decision to have the original, second and final investigation to ensure that due diligence was taken.
"It is regrettable that Eniola did not participate in the first external investigation as this would have enabled Katharine Newton to conduct and complete her investigation sooner," Mr Glenn's statement adds.
The FA had previously agreed to pay Ms Aluko £80,000 over the matter. Howver, the footballer said the Football union decided to pay in batches and the second installment was never paid.
She said: "Martin said if I wrote a statement saying the FA were not institutionally racist he would release the second tranche of the money."
While giving evidence to the Digital, Culture, Media and Sport, DCMS select committee, Ms Aluko said: "I felt that was bordering on blackmail. I categorically refused to write any statement. It is not for me to say that the FA is not institutionally racist.
"For Martin Glenn to say I should say that in order to get a payment I was contractually agreed to is appalling.
"So for Glenn to suggest that I should say the FA is no institutionally racist to get a payment I had already agreed to is another example of how it [this issue] has been handled badly.
"I was being asked to do something that I would not have ordinarily agreed to for a payment that was already agreed.
"The FA claimed I was defamatory in a tweet I sent and they felt they were legally entitled to withhold the payment. I disagree with that.
"They were keen for me to speak freely about the case. I have spoken factually about my views on how this case was handled and Sampson's behaviour."
After Ms Aluko's complain about Mr Sampson, which lead to several investigation by the FA, she was dropped from the English team. The DCMS raised questions as to why this happened.