By Christian Smith
England midfield player, Alex Oxlade-Chamberlain has signed a £35 million deal with Liverpool. 
The 24-year-old Arsenal wing back declined a new deal worth up to £180,000 a week to stay at the Emirates.
Oxlade-Chamberlain, joins English striker Daniel Sturridgeon at Ainfield on a five-year contract worth £120,000, having rejected a deal with Chelsea.
Oxlade-Chamberlain who joined from Southampton scored 20 goals in 198 match for Arsenal.
Arsenal defeated Liverpool in his last game with the club. In a Twitter post, he said: "After six years, three FA Cup wins and countless incredible memories, the time has come for me to move on from Arsenal.
"I want to publicly thank Arsene, the coaching and club staff and my amazing team mates for all of the incredible opportunities I have been given."
He added: "I know my choice might come as a surprise to many, and the decision to leave was tough after being a part of the club for so many years, but I feel that this move is right for the next stage in my ongoing development."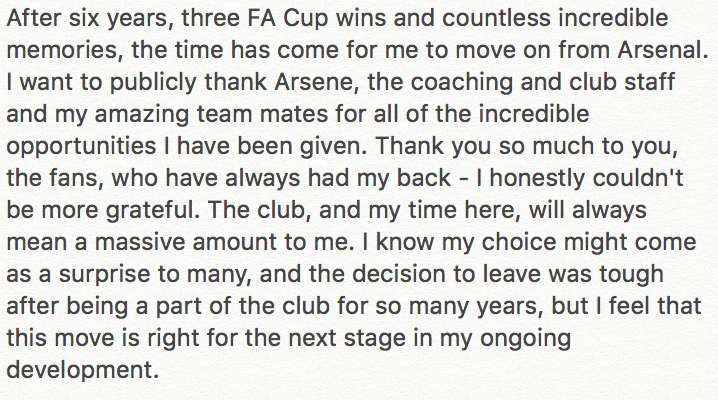 Jurgen Klopp told the Liverpool website: "I hear a lot of talk about positions but let's talk about the player; he is someone with really good abilities who always gives everything for his team. A player that is positive and willing to take risks to try and make positive things happen.
"He may still be young but he has a lot of experience in the Premier League, Champions League and for his country. Already he is a very, very good player and I think he has the mentality and desire to get even better – and that excites me.
"I am really, really happy we have got Alex signed. Since the last game I have been waiting and hoping we could make this transfer – and when I got the news he was ours it was fantastic."