Press Release
The All Progressives Congress (APC) in the United Kingdom has described the protest and vigil organised by some elements to keep vigil in Abuja House London where President Muhammadu Buhari is currently residing as a sham and absolutely uncalled for. We respect the right to protest but strongly disagree with the objective of this ill-advised and pay-as-you-go protest at Abuja house.
This was made known in a statement released by the stand-in spokesperson of the party in the UK, Hon. Jacob Ogunseye. According to him, the shambolic vigil attended by some paid Nigerians had about five (5) people in attendance; this signified the extent of the failure on the part of the organiser.
The vigil monitored by the APC UK said it is a disgrace for anyone to organise a protest against an elder statesman who has adhered strictly to the provisions of the constitution of Nigeria before leaving the country, he added that the organisers could have geared their efforts in looking inward to the successes of the administration rather than making a mockery of themselves. They could have camped at the posh houses of known looters of Nigeria's treasury who are presently hibernating in London, UK.
Hon. Jacob Ogunseye alleged that it was obvious that the protesters were hired and paid individuals. Reinstating his facts, he queried the reasons why the few men that turned up had to cover their faces if their course of action was truly genuine.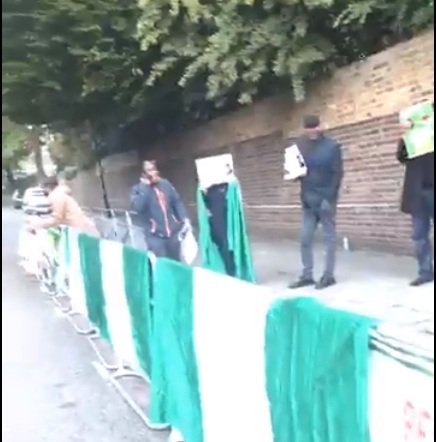 Nigerians should ignore this ignoble course and continue to pray for quick and total recovery of President Buhari, Ogunseye said.
As at today, it is clear that the President has made good recovery and we are confident that he will return to Nigeria very soon. He concluded.
All Progressives Congress
United Kingdom