By Abdul Tukur
Armed police have arrested a 27 year-old man on suspicion of instigating terrorism near Parliament.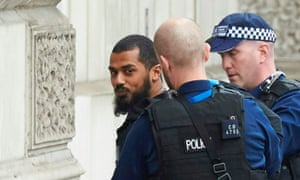 Law enforcement agents tackled the man who was carrying a ruck sack "full of knives" to the ground and managed to prevent any casualty in Whitehall, today.
Scotland Yard said: 'The man was arrested in Parliament Street, junction with Parliament Square, by armed officers from the Met's Specialist Firearms Command.
"The man, aged in his late twenties, was arrested on suspicion of possession of an offensive weapon and on suspicion of the commission, preparation and instigation of acts of terrorism.Knives have been recovered from him.
"He is being detained under the Terrorism Act and is in custody in a south London police station.
"Detectives from the Counter Terrorism Command are continuing their investigation, and as a result of this arrest there is no immediate known threat.'
Police are currently searching the London home of the attacker who is said to hold a British passport but might not have been born in the country.
READ ALSO – https://denisaurus.com/2017/04/10/funeral-of-pc-keith-palmer-taking-place-at-southwark-cathedral/
It comes a few week after the burial of PC Keith Palmer, who was murdered along with three others by a terrorist in an attack in Westminster.