By Adenike Lucas
The Senate has told protesters demanding for the resignation of President Muhammadu Buhari to exercise caution.
APC UK said four people turned up to protest at the Abuja House in London yesterday.
When asked, the demonstrators could not express themselves and did not have a clue as to why they were protesting. They later "scampered" away when neighbours from the Kensington area called the police because they failed to show a police permit which is required for such rally.
An APC official in London, who monitored the event told DENISAURUS News that "one of the protestors could not even afford his travel back home and I gave him £5. He took it and was happy to leave."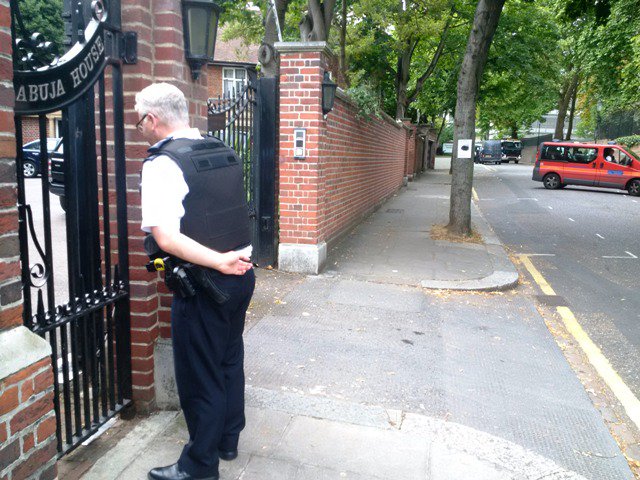 Meanwhile, in Nigeria a few other protesters operating under the aegis of #OurMumuDonDo also attempted to cause mischief in Abuja.
President Buhari continues to enjoy the support of most Nigerians. Many took to Twitter to castigate the demonstrators. In a tweet, @FCB_hasino said: "they are just protesting for lack of seriousness."
Nigeria's lawmakers has warned such agitators not to divert the attention of the Presidency from the economic and security issues which are being tackled with vigour.
The Senate said in a statement signed by its spokesman, Aliyu Sabi Abdullahi that they were satisfied that there is no vacuum as required by the Constitution, adding that the "President has broken no law and therefore we do not see any justification for this diversion and noise making."
The representative for Niger North Senatorial district said: "The sponsors are merely seeking cheap publicity at the expense of the peace of Nigeria.
He reiterated that the Senate was in support of the President and there was no reason for people to protest.
"We, in the National Assembly, are satisfied that there is no vacuum. The Federal Government is working. Acting President Yemi Osinbajo is providing the required leadership. So, there is no reason for the protests," he said: "All Nigerians now should focus on praying for the safe return of the President. We in the Senate are happy about the report by the Governors and party leaders who recently visited President Buhari in London and we know he will soon return to continue to provide leadership to our people and the rest of Africa.
"We therefore call on the protesters to stop all these demonstrations and let their sense of patriotism overshadow the zeal for activism by joining other Nigerians to pray for the President, the acting President and Nigeria as a country at this critical period", Senator Abdullahi added.