By Abdul Tukur
The leader of the Royal borough of Kensington and Chelsea, Nick Paget-Brown, has resigned following some of the decision taken over the Grenfell disaster.
The Conservative council leader, who was rebuked by Number 10 for scrapping a crucial meeting to discuss the fire disaster, because journalists were present accepted a "share of responsibility" for the "perceived failings."
He said: "The Grenfell Tower fire has been possibly the worst tragedy London has seen since the end of the Second World War."
The council has been heavily criticed by residents and politicians in how it has dealt with survivors.
"This council has been criticised for failing to answer all the questions that people have," Mr Paget-Brown said
"The scale of this tragedy was always going to mean that one borough alone would never have sufficient resources to respond to all the needs of the survivors and those made homeless on its own.
"Nobody will ever forget what they saw that day and the horror that ensued for people trapped inside."
"We have been very lucky to have the support of other London boroughs, the emergency services and community associations based in north Kensington and I'm very grateful to them."
His resignation comes hours after it was revealed that the cladding used in the building was changed to a cheaper one.
Earlier, Robert Black, the CEO of Kensington and Chelsea Tenant Management Organisation announced that he was also standing down
The Mayor of London, Sadiq Khan welcomed their decision to step down. However, in a letter he sent to the Prime Minister, he said "the crisis facing Kensington and Chelsea goes further," and so, he has called for Commissioners to be appointed to take over the running of the Council.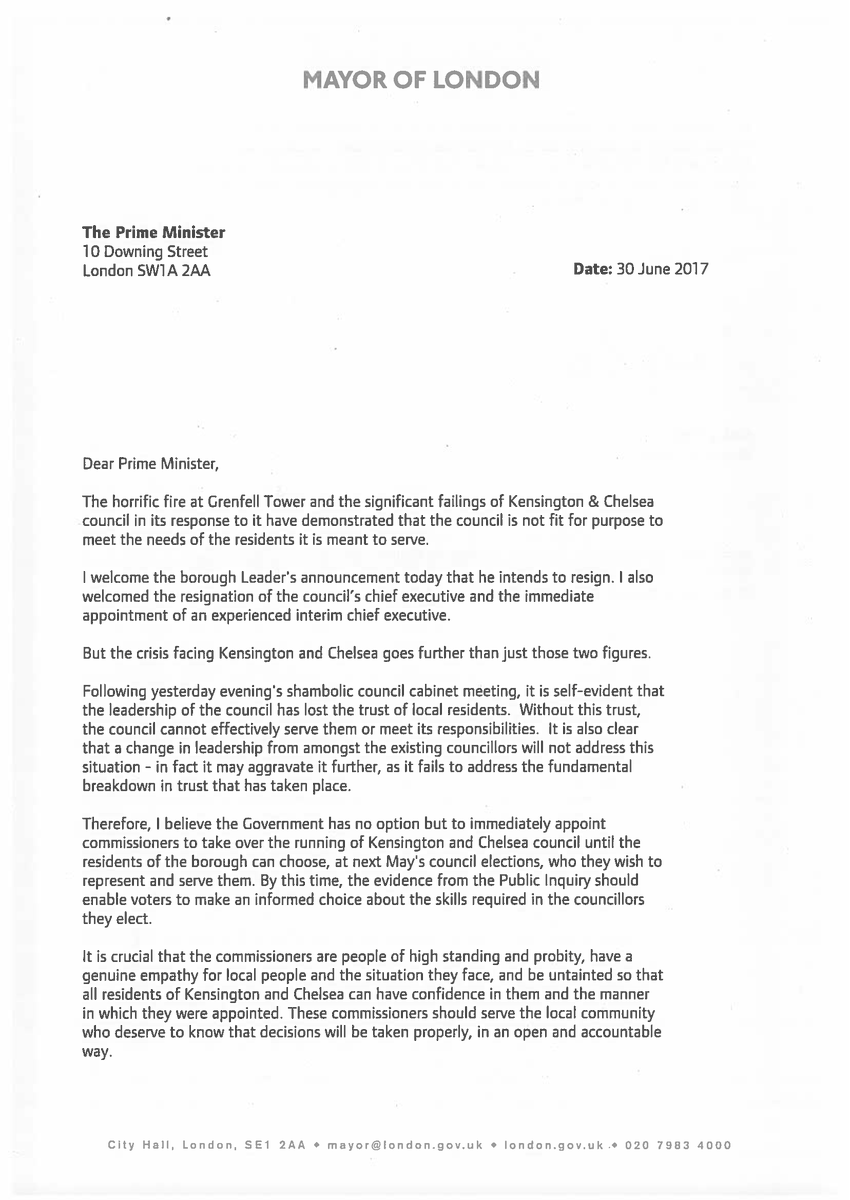 Mr Paget-Brown had claimed he had refused media access to yesterday's meeting in order to prevent the report from prejudicing the judge.
READ ALSO – https://denisaurus.com/2017/06/29/retired-court-of-appeal-judge-to-lead-inquiry-into-grenfell-tower-disaster/
Yesterday, a recently retired Court of Appeal, Sir Martin Moore-Bick was appointed to lead the inquiry into the disaster, which killed more than 80 people.
Speaking on Friday evening, he said: "The scale of this crisis was always going to mean one borough would not have the resources to deal with it alone.
"This council has been criticised for failing to answer all people's questions. But that is a matter for the inquiry.
"As council leader I must take my responsibility. I have therefore decided to step down."
He said: "The task for my successor is to ensure that the strengths which also characterise this place, and North Kensington in particular, are seen to play their part in bringing the community together and ensuring that this borough, the most wonderful place, can start to move forward from this tragedy."