By Abdul Tukur
Prosecutors in Sweden have decided to drop the rape investigation into Julian Assange.
The Director of Public Prosecution, Ms Marianne Ny said Mr Assange's arrest warrant was being revoked as it was impossible to serve him notice.
Mr Assange, 45, who created WikiLeaks in 2006, was accused of sexual misconduct by two women in 2010 after a trip to Sweden, but he has always denied the accusation.
At a press briefing on Friday, Ms Ny said that by remaining in the embassy in London Mr Assange had evaded the exercise of the European Arrest Warrant (EAW) that would have seen him extradited to Sweden.
She said: "According to Swedish legislation, a criminal investigation is to be conducted as quickly as possible. In order to proceed with the case, Julian Assange would have to be formally notified of the criminal suspicions against him.
"We cannot expect to receive assistance from Ecuador regarding this. Therefore the investigation is discontinued."
The investigation will be reopened "If he were to return to Sweden before the statute of limitation on this case expires in August 2020."
In a tweet, @JulianAssange said he would not "forgive or forget." attempts to arrest him over rape allegation which led to him to seek asylum at the Ecuadorean Embassy in London since 2012.
"Detained for 7 years without charge by while my children grew up and my name was slandered. I do not forgive or forget," he wrote.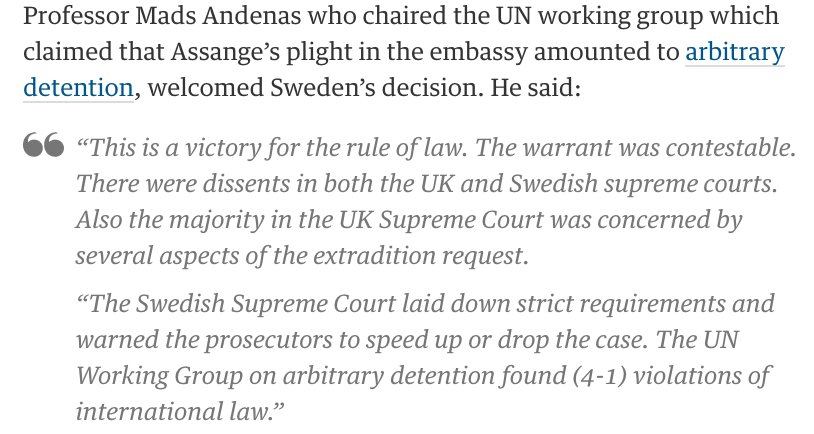 The 45-year-old Australian national is also wanted in the United State for leaking classified documents.
Police in the United Kingdom say it is still obliged to arrest the Wikileaks founder if he leaves the Ecuadorian embassy.
"Today is an important victory for me and the UN human rights system, but by no means erases seven years of detention without charge… while my children grew up. That is not something I can forgive or forget," he told journalists from a balcony at the embassy.
"My legal staff have contacted the UK authorities and we hope to engage in a dialogue about what will be the best way forward," he added, saying he was also "happy to engage" with the US.