By Christian Smith
The oldest serving Member of Parliament, Sir Gerald Kaufman has died aged 86.
His death will cause a by-election in Manchester Gorton, where has represented since 1983.
Family said that Sir Kaufman, who was first elected into the House of Commons in 1970, died on Sunday evening after battling a long-term illness.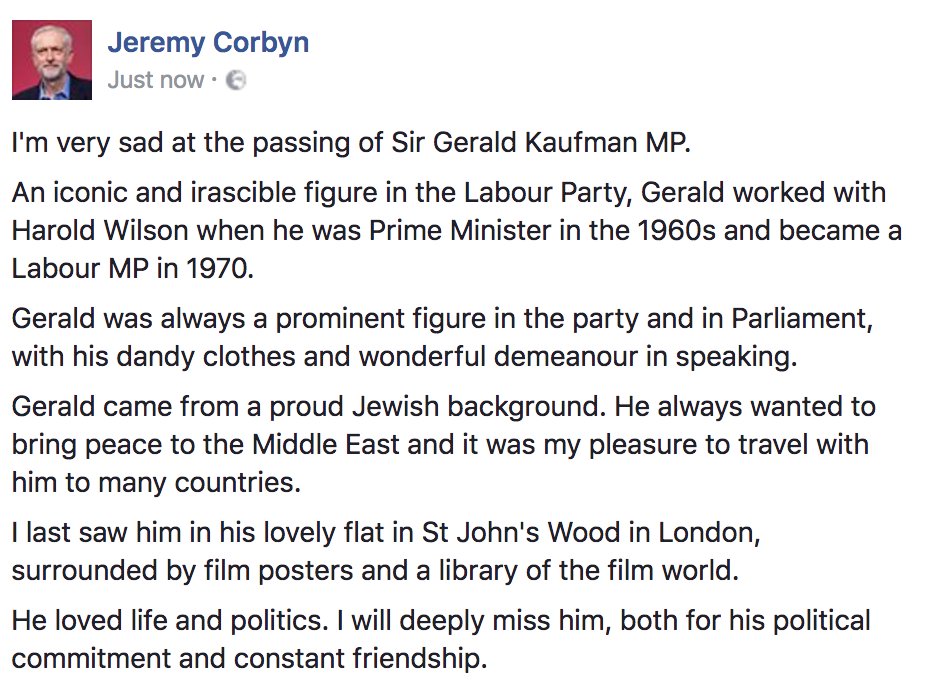 While leading tribute to the politician, Jeremy Corbyn said he was "sad at the passing of Sir Kaufman."
The Labour leader who welcomed Gareth Snell MP, the party's latest MP today, said Sir Kaufman was an "iconic and irascible figure."
Sir Kauffman, who was the longest serving MP and given the title of Father of the House, "loved life and politics, he said: "I will deeply miss him, both for his political commitment and constant friendship."
In 1970,  Sir Kauffman was elected to represent the Manchester Ardwick constituency. This constituency was abolished and replaced with Manchester Gorton, which he had served since 1983.
Conservative MP and former Chancellor, Kenneth Clarke, 76, is now the Father of the House.
Commons Speaker John Bercow said: "I was very saddened to learn of the death of Sir Gerald Kaufman, the Father of the House and Manchester Gorton's outstanding representative."
Similarly, the Shadow Chancellor John McDonnell tweeted his dismay at the passing of Sir Kauffman.
He said, Sir Kauffman: "was a tremendously dedicated servant of his constituency and our party. A man of absolute principle."